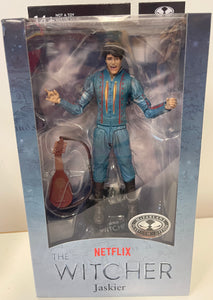 McFarlane Toys
Witcher Jaskier Season 1 7-Inch Scale Platinum Edition Action Figure
Regular price
$39.95
$0.00
Unit price
per
This is the Platinum Edition of the regular Jaskier figure!
"Toss a coin for your Witcher!" The talented bard is ready to write another earworm! Based off The Witcher series, this 7-inch figure features Jaskier in his iconic Season 1 outfit. This Witcher Netflix Wave 1 Jaskier Season 1 7-Inch Scale Action Figure is designed with ultra articulation with up to 22 moving parts for a full range of posing. This "chase" version of this Jaskier figure features a new head sculpt. This magnificent musician comes complete with a lute, lute strap, and a display base. Jaskier is showcased in The Witcher themed window box packaging.

A bard that accompanied Geralt on many of his travels, producing and performing songs of the continent. Jaskier had a nose for adventure but not much of a stomach for it. He joined Geralt on several monster hunts, nearly losing his life to a vicious djinn. At one point, he found inspiration for some of the world's most famous ballads.

In case you didn't know: What is a "chase variant" and why is it so special? Well, variants are slightly different productions made in limited number and inserted into the standard production run. 
---