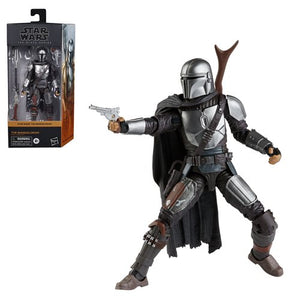 Hasbro
Star Wars The Black Series The Mandalorian (Beskar) 6-Inch Action Figure
Regular price
$29.95
$0.00
Unit price
per
The Mandalorians were a clan-based group that was composed of members from multiple species that were all bound by a common culture, creed, and code. This group originated on the planet Mandalore in the galaxy's Outer Rim Territories and had a particularly important role in galactic history as infamous warriors against the Jedi. From their homeworld, Mandalorians had flourished across the Mandalorian Space and the galaxy at large, colonizing several worlds such as Kalevala, Krownest, and Concord Dawn.
The Black Series takes on your favorite Star Wars stories! Add some awesome to your collection! Bring the next big thing in Star Wars home with the Star Wars The Black Series The Mandalorian Action Figure. This out-of-this-world 6-inch action figure was developed in conjunction with Lucasfilm and Hasbro to bring you the highest level of detail and authenticity. Collect them all and start your collection right here! Ages 4 and up.
The Star Wars: The Black Series Mandalorian beskar armor figure was carefully detailed to look like the character as seen in The Mandalorian Disney Plus series, featuring premium detail as well as multiple points of articulation.
Mandalore had a largely martial history, but since the Mandalorian Civil War, pacifist sentiment had begun to emerge, and by the time of the Clone Wars, the Mandalorians had been reformed under the New Mandalorian regime led by Duchess Satine Kryze of House Kryze while the Old Mandalorians scattered across the galaxy as mercenaries.
Kids and fans alike can imagine the biggest battles and missions in the Star Wars saga with figures from The Black Series! With exquisite features and decoration, Star Wars Mandalorian Figure in Beskar embodies the quality and realism that Star Wars devotees love.
---